My Home Page

My Favorite Things About Angelfire
My Favorite Web sites
Angelfire Home Pages
Free Web Building Help
Angelfire HTML Library
htmlGEAR - free polls, guestbooks, and more!

Return to Homepage
Los Angeles, California Chemtrail Spraying and Forecasting
There are 5 major indicators identified with chemtrail spraying - you can look for to know in advance spraying will occur.
Spraying Period #1: Around Full moons (possibly to cause mental confusion and mistrust among human populations)
Link Courtesy of Old Farmers Alamac: http://www.almanac.com/moon/full/CA/Santa%20Monica
Spraying Period #2: When there are between 4 and 8 "C" Class Flares.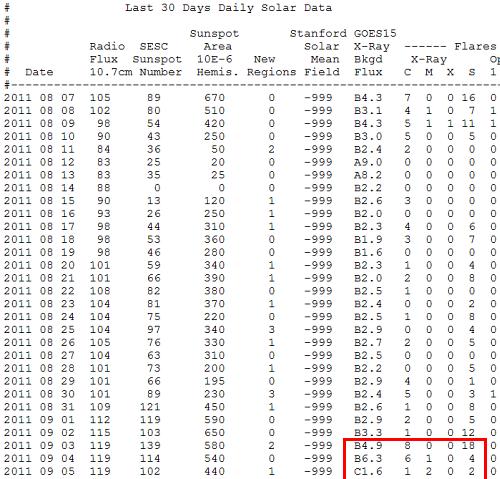 Spraying Period #3: When the X-Ray background Flux Levels reach 4.0 (possibly to block evolving consciousness)
Forecast Link Courtesy of NASA: http://www.swpc.noaa.gov/ftpdir/latest/DSD.txt
Spraying Period #4: During Certain Geomagnetic Storm Periods (possibly to alter or interferre with DNA of living organisms)
Forecast Link courtesy of Northwest Research Space Weather:
http://www.nwra.com/spawx/27do.html
Spraying Period #5:
3 consecutive days or more of Rising Solar Flux with a forecasted solar wind speed "jump"
Solar Wind Forecast Link courtesy of LMSAL (palo alto, ca)
http://www.lmsal.com/forecast/wind.html
Solar Flux Forecast Link courtesy of Space W.com
http://www.spacew.com/www/dailyrpt.html

Lastest Los Angeles Chemtrail Spraying Reports


December 4th, 2011. As forecasted, chemtrails began over Los Angeles at 10:30 a.m. and currently persist as of the time of this update (1:06 p.m.). Scientific Analysis: Spraying occured due to an increase in high speed solar winds. Forecast Link: http://www.lmsal.com/forecast/wind.html

December 3rd. No chemtrails to report today.

December 2nd. No chemtrails to report today.

December 1st, 2011. No chemtrails to report today.

November 30th, 2011. Spraying began early this morning and is still going on as of 12 p.m. Spray coverage is light to medium with the standard eastern horizon vertical lines.

November 29th, 2011. Activity was very minor. Still major cloud cover from yesterday. Noticed a few planes spraying, but not as heavy as yesterday.

Chemtrail spraying was extremely heavy on November 22nd and November 23rd Over Los Angeles, CA. Solar and Geomagnetic Conditions: The C class threshold started dropping from a maximum of 11 C class flares. As soon as 8 C Class Flares came online, heavy chemtrail spraying occurred.
November 28th, 2011, chemtrails were starting to be sprayed at 10 p.m. on Sunday night (Nov 27th, 2011). Spraying was very, very heavy throughout the day and into the late evening.
Solar and Geomagnetic Conditions: X-Ray Background Flux Levels were at 4.0, a geomagnetic storm began at 5:30 p.m. California Time and there were 7 "C" Class Solar Flares. (right in the threshold between 4 and 8)
-----------------------------------------------------------------------------------------------------------------------------------------------------
Los Angeles Future Chemtrail Spraying Forecast
Please note this is a beta forecasting page.
Due to the solar flux levels predicted to increase in the coming days as well as a geomagnetic storm occurring, spraying should continue until November 31st, 2011.
Chemtrail spraying is expected to cease by December 1st with another period starting around December 2nd or December 3rd, 2011.
Between the 6th and 8th of December, chemtrail spraying should have stopped altogether for a "rest period" before restarting again between December 9th and December 13th, 2011.
Return to Homepage